Projects
New Assignments
Malaysia
WinDForce through its group company EVI Malaysia, has won a contract for setting up an additional wind mast in Malaysia. WinDForce in collaboration with EVI Malaysia is presently carrying out national level wind resource mapping of Malaysia including installation of 7 wind met masts across Malaysia. This project is expected to provide the requisite boost to the wind energy sector in Malaysia.
Projects In Progress
Currently WinDForce is involved in the implementation of a number of windfarm projects, spread across the country. Windforce is working in Maharashtra (~400 MW), Rajasthan (~241.2 MW), Andhra Pradesh (~92 MW), Gujarat (~20 MW), Meghalaya (~ 2 MW) and Madhya Pradesh (~ 60.5).
The total capacity of on-going projects under OE (Owner's Engineering) category has expanded to ~816 MW, including ~160 MW of PSU (Public Sector Undertaking).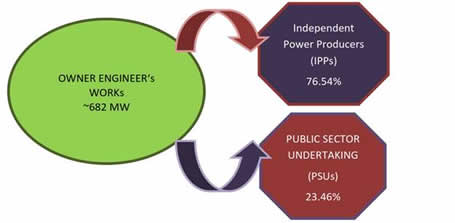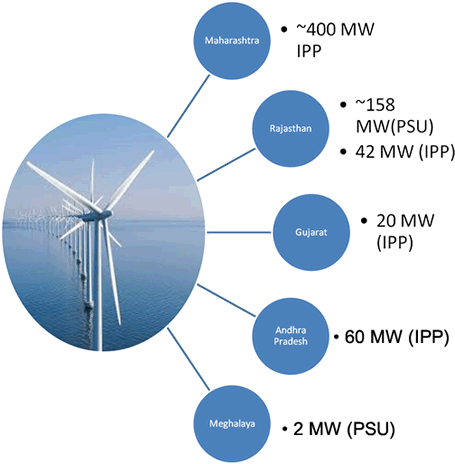 We are working with major OEM's (Original Equipment Manufacturers) across India i.e Gamesa (G58, G97), Enercon (E53), Suzlon (S88, S97, S95), Regen (V82, V87), Innox (IWL 2.0), and LEITWIND (LTW 77)
Projects Completed
WinDForce facilitated FERSA in installing its first 20 MW wind project in India
The Spanish renewable developer- Fersa Energías Renovables has successfully accomplished its first wind farm in Rajasthan (India) with WinDForce Management Services Pvt. Ltd. (www.windforce-management.com), serving an indispensible role in the project management.
"WinDForce got involved during the implementation of the project and shall support during post commissioning stabilization of the wind farm. The completion of activities took place in a timely and effective manner," said Mr. Gnanaprakash, the WinDForce project in-charge.
WinDForce assessed ~630 MW Operational Assets in India
Since March 2014, WinDForce has conducted Technical Due Diligence (TDD) of approximately 630 MW capacities of operational assets covering vast geographical span in India. The assets are acquired and funded by different national and international clients. These windfarms are present in states of Tamil Nadu, Karnataka, Maharashtra, Madhya Pradesh and Rajasthan with different types of wind turbines being installed. TDD covers assessment of present generation and also analyse generation in near future. It also covers analysis of various contract Agreements, clearances, licences and permits acquired and required by the owner of the respective windfarms.
Research and Development
WinDForce Launched - Scheduling & Forecasting Service
WinDForce has initiated a pioneer Scheduling and Forecasting service for wind industry. The services include both wind and expected generation forecasts for the major wind farm areas of the country. The objective of the forecast is to bring significant improvements in the operation of windfarms as well as their integration with the grid. The forecasts are meant for project owners and utilities such as Discoms, SLDCs and NLDC to take timely decisions with regard to Load Dispatch, Scheduling and Forecasting with a view to maximize generation from Wind Farms across the country. Hoping this will help Industry to comply with scheduling and forecasting of windfarms as required by CERC and also to plan maintenance in low wind periods.
WinDForce Wind energy forecast is based on R&D with weather models and global databases.
Prosenjit Chakraborty (9560962954)
Email : prosenjit@windforce-management.com
Participation In Conference and forums
WinDForce participate in Wind energy International Conference held in Shanghai
Dr Jami Hossain and Mohammad Ziaulhaq Ansari from WinDForce Management Services Pvt Ltd recently participated in an International wind conference organised by World Wind Energy Association (WWEA) and Chinese Wind Energy Association held in Shanghai, China during 7th-9th April 2014. The conferences had the presence of around 500 participants from 40 countries in areas of wind and other renewable energy technologies.
Ziaulhaq, made a presentation on a WinDForce study about wind power potential of Kenya which received much interest from delegates in the conference. According to the study, Kenya is endowed with immense wind power potential, which can go a long way in meeting its energy needs. WinDForce has carried out a detailed wind mapping assignment for Government of Kenya with support from World Bank which estimates 1604 GW of wind potential in wind speed class III (6.0-6.5 m/s), 642 GW in Class II (6.5-7.5 m/s) and 4.6 GW in Class I (7- 8.5 m/s) respectively.
Another study on offshore wind energy potential in India was also presented which estimates the theoretical offshore potential to be of the order of 966 GW over territorial buffer of 40 km within a water depth limit of 40 m. The study concludes Gujarat and Tamil Nadu to have considerably higher potential compared to other states together with strong technical feasibility.
Dr. Hossain as the Technical Chair of WWEA, in a side event with IRENA delivered a talk on status and challenges being faced in integrating wind power with conventional power systems across the world. He also participated in the Board meetings of WWEA and subsequently meetings of the Technical Committee.
The conferences covered all aspects of wind utilization, best practices and policies, manufacturing, development; operation as well as economic and social issues, with a exceptional focus on the role of distributed wind power, which shall boost to accelerate the deployment of wind power in the world. The conference was supported through government as well as non-government organizations, especially the Chinese Government, the German Federal Ministry for Economic Affairs & Energy, IRENA, UNDP, the International Renewable Energy Alliance, REN21, Global100%RE campaign, the World Future Council.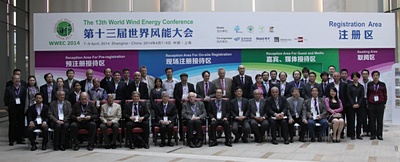 Participants including those from WinDForce at World wind energy conference held in Shanghai.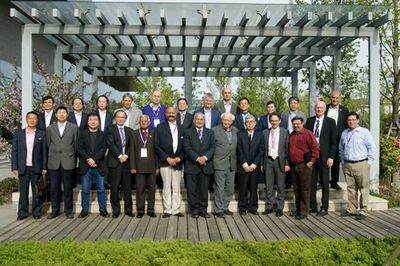 WRA Experts Attended – GL Wind Farm Training
Wind Farm Design and WindFarmer Training
Mr. Neelu Kumar Mishra and Dr. Deepshikha Sharma attended 2-day training program organized by DNV-GL at India Habitat Centre, Delhi, India on May 13th -14th, 2014. The training incorporates an understanding of wind farm design which can reduce timelines and costs at the development stages of a project. The training comprises the principles of wind flow, turbulence, and wake effects, and proceeded to the calculation of energy production, environmental analysis and optimization of the turbine micrositing.
Both the participants had successfully completed the training course and received the certificate from the organizing Agency.
Information related to various Agencies and Institutions
MAHARASHTRA ELECTRICITY REGULATORY COMMISSION
Determination of Generic Tariff for Renewable Energy Sources for FY 2014-15
On 6th May 2014, the Maharashtra Electricity Regulatory Commission (MERC) has issued the Draft Order on Determination of Generic Tariff for Renewable Energy Sources for FY 2014-15.
The Tariff Period for wind energy projects is 13 years, considered from the date of commercial operation of the RE project, and the tariff determined under the Regulations shall be applicable only for the duration of the Tariff Period.
The generic tariffs for Wind Energy Projects for FY 2014-15 have been determined as under. The discount factor for carrying out levelisation of Tariff for wind energy projects works out to 15.54%.
Tariff for New RE Projects for FY 2014-15 Wind
Wind Energy
Tariff Period
Levellised
Tariff forFY 2014-15
Benefits of Tax
and Additional
Depreciation(if availed)
Net Levellised
Tariff upon
adjusting for Tax
and Additional
Depreciation
Benefit)(if availed)
Rs/kWh
Rs/kWh
Rs/kWh
Wind Zone-1
13
5.60
0.36
5.25
Wind Zone-2
13
4.93
0.31
4.62
Wind Zone-3
13
4.11
0.26
3.85
Wind Zone-4
13
3.85
0.24
3.61
Draft Order Case No 100 of 2014
REFINANCE SCHEME FOR PROMOTION OF RENEWABLE ENERGY SUPPORTED BY THE NATIONAL CLEAN ENERGY FUND
IREDA-NCEF REFINANCE SCHEME (Ministry of New and Renewable Energy)
IREDA has introduced a Refinance Scheme for the promotion of Renewable Energy applications in the country, with the aim of expanding the commercial market through financial incentives through refinance at concessional rates. The IREDA NCEF Refinance Scheme aims to bring down the cost of funds for Renewable Energy projects by providing refinance at concessional rates of interest, with funds sourced from the National Clean Energy Fund (NCEF).
The Scheme will be in operation for a period of five years commencing from the financial year 2013-14. Loans for any Renewable Energy projects such as wind, solar, bio-mass, small hydro, waste-to-energy, etc. would be eligible under the Scheme. Renewable Energy projects involving activities such as manufacturing, generation of power, infrastructure for evacuation, etc. would be eligible under the scheme.
KARNATAKA ELECTRICITY REGULATORY COMMISSION ORDER ON EXTENSION OF WHEELING AND BANKING FOR WIND MILLS IN KARNATAKA UP TO 30.06.2014
On 12th May 2014, the Karnataka Electricity Regulatory Commission (KERC) has issued an Order on BESCOM's Annual Performance Review for FY13 and Revised ARR & Retail Supply Tariff for FY15. According to this order, the Wheeling and Banking for Wind Mills in Karnataka has been extended up to 30.06.2014.
The extract of the Commission view on the wheeling and banking:
The Commission vide order dated 24.04.2014 has extended the validity dated 11.07.2008 in the matter of "Wheeling and Banking Agreement" up to 30.06.2014 or till the issue of revised order in the matter, whichever is earlier. As such, for RE sources wheeling energy to the consumers in the State the existing Wheeling and Banking charges are continued up to 30.06.2014 or till the issue of revised order in the matter, whichever is earlier.
Offshore Wind Potential of India
The long coastline of India is endowed with immense wind power potential of the order of 966 GW. This was revealed in a feasibility and mapping study presented by WinDForce Management Service Pvt Ltd (WinDForce) in Shanghai. The study concludes that coastal region of the country within a territorial region of 40 kms from the coastline of around 7000 km, and within water depth limit of 40 m is estimated to have a theoretical wind potential of 966 GW. The coastlines of Gujarat and Tamil Nadu were assessed to have considerably higher potential compared to other states with a figure of 262 GW and 187 GW. The states have comparably attractive policy framework for investors in onshore segment.
The figures were revealed during a technical presentation made by WinDForce at international conference organised by World Wind Energy Association and Chinese Wind Energy Association in Shanghai, from 7-9 April 2014. This study was carried out by a team of WinDForce experts.
The study further estimates a potential capacity of 26GW in wind speed range 6.0 – 7.0 m/s and 240 GW in 7.0 – 8.0 m/s. WinDForce recommended that the country should have a policy mechanism and a framework to attract IPPs and other private investors to develop offshore projects. This was one of the key recommendations made by WinDForce to the delegates during the Conference. The move by MNRE, Government of India for offshore development was also highlighted.
WinDForce Management Services Private Limited is a wind energy consulting company based in India and providing advisory services to government bodies, IPPs, Financial Institutions, Private Developers and international development agencies in the entire spectrum of activities for developing wind farms from concept to commissioning.
Industry News
G.E. providing 70 MW of turbines for Brazilian wind power project
General Electric has announced an order of 32 turbines for a wind farm in Brazil.
As part of the contract, GE will provide the operations and maintenance on the 32 turbines for 10 years.
The 2.2-107 machine is the latest in GE's line of brilliant wind turbines, which use the Industrial Internet to analyze tens of thousands of data points every second to manage wind's variability and provide smooth, predictable power. It is derivative of GE's 1.5MW series of turbines.
GE-providing-70-MW-of-turbines-for-Brazilian-wind-power-project
DOE Awards $141 Million to 'Innovative' Offshore Wind Energy Projects
Three innovative offshore wind power projects in the US have been awarded up to $47 million (£27.7m) each by the Department of Energy.
They are expected to add 67MW of offshore wind capacity by 2017 and help drive down costs for future wind farms.
These projects – located off the coast of New Jersey, Oregon and Virginia – will help speed the deployment of more efficient offshore wind power technologies.
Fishermen's Energy, Principle Power and Dominion Virginia Power will receive the funds over four year for the projects located off the coast of New Jersey, Oregon and Virginia.
One of the projects will act as a laboratory for researchers to learn about offshore wind and investigate interactions between turbines while another is expected to show the installation, operation and maintenance methods for wind turbines located far from shore.
DOE-Awards-141-Million-to-Innovative-Offshore-Wind-Energy-Projects
Morocco Wind Farm, Africa's Biggest, Starts Generating Power
Africa's biggest wind farm located in Tarfaya starts generating power to meet electricity needs of several hundred thousand people.
Installed on 10,000 hectares (24,700 acres) along the wind-blown southern Atlantic coast, the 80-metre (260 feet) high turbines, 131 in all, will be fully operational in October and produce up to 300 megawatts of electricity.
The North African kingdom has no hydrocarbon reserves of its own and hopes to cover 42 percent of its energy needs with renewable sources by 2020. It has launched a plan to produce 4,000 MW from wind and solar power.
Morocco-Wind-Farm-Africas-Biggest-Starts-Generating-Power
GE launches 1.7-103 low wind speed turbine for India market
GE's first wind turbine (1.7-103) developed and engineered specifically for India's low wind speed conditions.
The 1.7-103 provides a 30% increase in annual energy production compared to its predecessor 1.6-82.5. Also the turbine's large 103-meter rotor will help deliver high-efficiency output and attractive project economics, according to GE.
A 100MW wind farm powered by 1.7-103 turbines can generate electricity required to fulfill the needs of 413,000 Indian homes per year and offset carbon emissions of 291,000 TCO2 per year.
GE-launches-17103-low-wind-speed-turbine-for-India-market
Major Conferences
Global Offshore Wind 2014
Location: SECC, Glasgow
11th June 2014 To: 12th June 2014
RenewableUK presents an exciting event for 2014 – the association's 13th annual offshore wind energy conference and exhibition, this time with a truly global focus. Taking place over two days, 11-12 June, RenewableUK welcomes the global industry to Glasgow – all in one place at one time.
The UK's installed offshore wind capacity is greater than the rest of the world's combined, and we have an active, well established, local offshore wind industry, complemented by strong involvement from key international players.
At Global Offshore Wind 2014 learn from conference content especially crafted to plug into the UK's world leading industry expertise, products, services and investment potential. Emerging markets will also showcase their strengths and opportunities.
Global offshore wind 2014
The 10th Annual Small Wind Conference
Location: Stevens Point, WI
16th June 2014 To: 18th June 2014
The 10th annual Small Wind Conference will be held June 16–18, 2014 in Stevens Point, Wisconsin, at the Holiday Inn and Conference Center. This event brings together small wind installers, site assessors, manufacturers, dealers and distributors, supply chain stakeholders, educators, public benefits program managers, and advocates—all working together to move the small wind industry forward.
http://smallwindconference.com/
SCOTTISH RENEWABLES ONSHORE WIND CONFERENCE & MINI EXPO 2014
Location: Edinburgh, Scotland
24th June 2014 To: 24th June 2014
The only dedicated event to Scotland's fastest growing renewable sector. Join us to hear from industry and government leaders, discussing and debating the fundamental issues to the sector's growth issues across a range of topics from Scotland's new planning framework, the transition to EMR and the work the sector undertakes with Scotland's communities.
Onshore-wind conference and exhibition 2014
BRAZIL WINDPOWER 2014
Location: Rio de Janeiro, Brazil
26th August 2014 To: 28th August 2014
The 5th Brazil Wind Power conference and exhibition, organized annually by ABEEolica, GWEC and CanalEnergia Group is the best opportunity to do business in the wind energy market.
http://brazilwindpower.org/en/index.asp
Trainings
Analysis of Operating Wind Farms 2014
9th to 10th December 2014, Malmö, Sweden
The second EWEA technology workshops on the analysis of operating wind farms
WIND ENERGY TECHNOLOGY
23rd to 25th July 2014, Chennai, India
16th National Training Course - WIND ENERGY TECHNOLOGY includes the following objective:
To transfer knowledge and needed special skills to the wind energy personnel, active in technical and operational fields.
To build personnel to meet the huge demand of skilled human resource in India, and specifically to enable extensive research and evolve innovative strategies.
To provide an invaluable platform for exchange of professional and cultural experiences among diverse participants from all parts of the country
Blade Repair and Inspection (Level One)
24th to 28th June 2014, Newcastle, UK
This course enables delegates to develop the skills and knowledge required to undertake blade inspection, minor repairs and preventative maintenance.
Delegates will gain the competencies required to meet the Level 1 criteria and to prepare them for Level 2 and Level 3.
The course is approved by Germanischer Lloyd (GL), the world's leading wind turbine certification body.
Blade Repair and Inspection Level 1